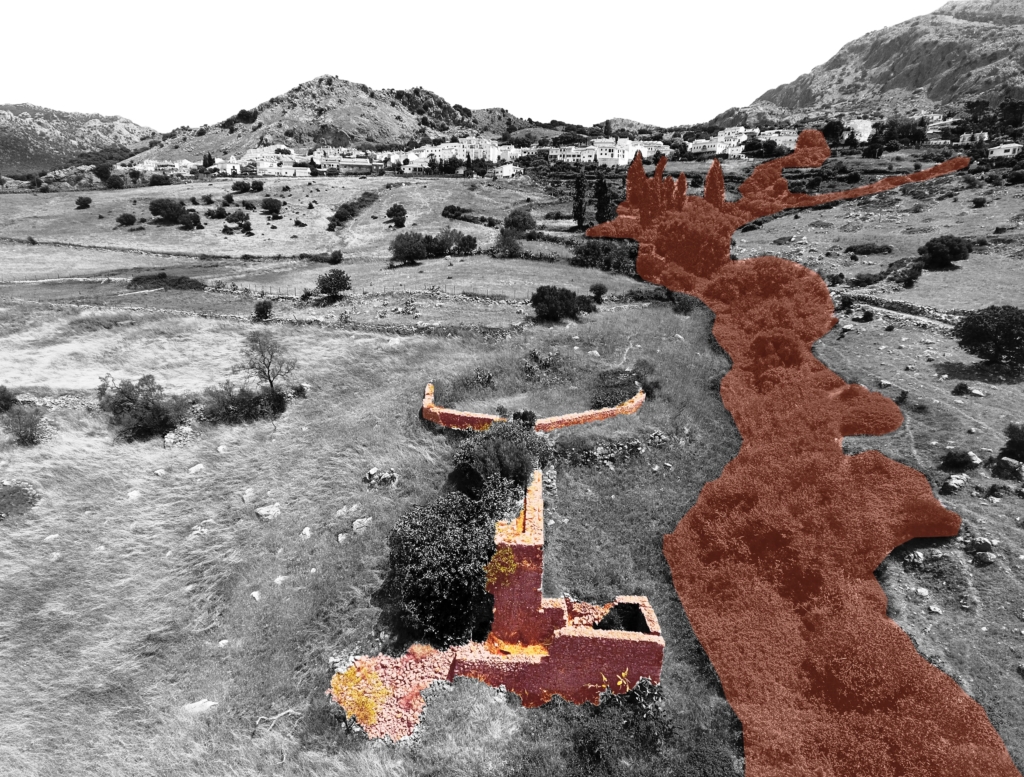 Water as a driving force in the historical
production of staple food: bread.

Gloria Rivero-Lamela
2019
The Sierra de Cádiz is located in the north-eastern end of the province of Cádiz; within Andalusia, in Spain. It comprises a large part of the Sierra de Grazalema Natural Park, declared a Biosphere Reserve in January 1977 and a Natural Park in December 1984.
It presents a rugged orography of steep slopes, which causes the Sierra de Cádiz to be the area where the provincial hydrographic network springs. The Majaceite, Guadalete, Guadalporcún and the Zahara and Hurones reservoirs stand out.
In addition to these physical issues, it is a cultural region, since it has been an isolated area (Hispanic-Muslim border during more than two centuries) that has generated among its inhabitants the awareness of sharing a common history and a cultural past.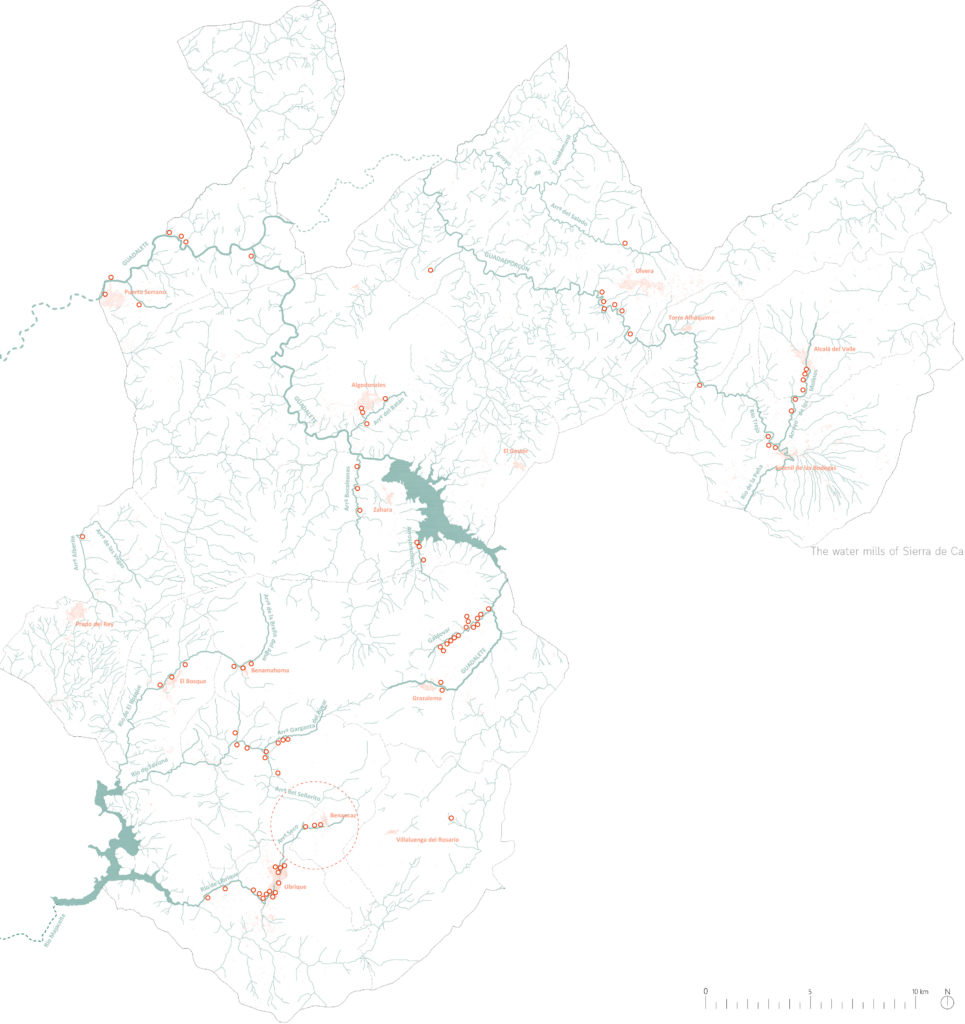 They are, in addition, functional architectural interventions: for its industrial use and for the required productive profitability, water was necessary for its operation. Therefore, these mills were built with the precision and logic of the small hydraulic engineering works that, together with other minor and usual works in these places, such as ditches, canals, ponds, etc., make up a network of constructions aimed at control and management of hydrological resources that the artisan industries of the Sierra de Cádiz region require.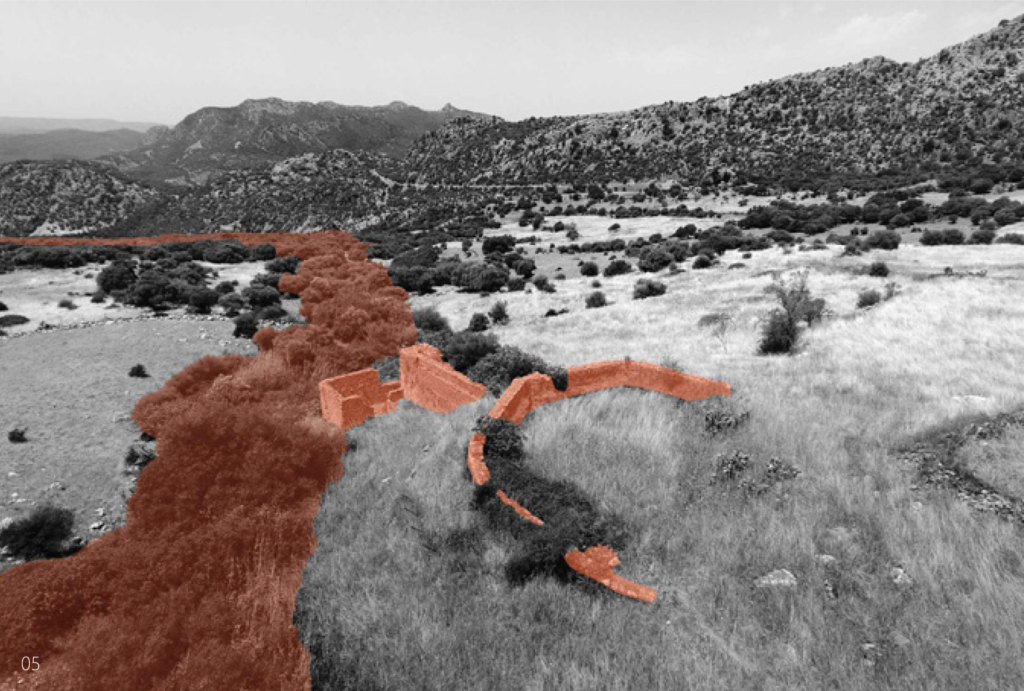 The function of the mills determines its design. On a small scale, the mill is distinguished by its location close to the rivers and by the external infrastructure works that channel the water to its interior: the millrace, the well and the wheelhouse.
All the water mills of the Sierra de Cádiz have a horizontal wheel and a well, one or two at most, and they may or may not have a pond. They were built when the watercourses had no speed or sufficient flow.
Almost all the mills had a mixed structure with masonry load-bearing walls of irregular stone, taken with mortar of sand and lime, 60-80 cm thick, plastered with lime and wooden beams. Most of the roofs had one or two water structures, also made with wooden structure, thatched and Arab tile. The main space that articulates the building is the grinding room, located above the wheelhouse.
If it exists, the pond is built where the slope of the land is not excessive to achieve, with minimal construction resources, store as much water as possible. The water is conducted from the pond to the well by the millrace, which bypasses the topography. The well is located in the area of the greatest slope so that the waterfall generates enough force to move the horizontal wheel. The position and length of the millrace result from the position of the pond and the well according to the topography. The system is further optimized with the mill's proximity to the river for the immediate return of the water to the natural course.